Winter's here and it's time to snuggle by the fire and watch a classic holiday film. And we all know what that classic is: that's right, The Shining.

Buh? Why so surprised, Jack?
The Shining has it all: a beautiful winter wonderlandscape, family, and the true meaning of Christmas (note: conclusions upon viewing may vary).
But my favorite part of The Shining is Shelley Duvall and her wardrobe. There's something so underrated about Shelley Duvall. I think she looks like Jane Birkin. Actually her voice is pretty similar to Birkin's too. I think we should put her on T-shirts. But that's not important right now. In The Shining, Shelley keeps it simple but classic. Even though the clothes have a distinct late 70s feel to them they could easily be worn today. I'm going to show you how.
Danny's not here, Mrs. Torrence, but hello accessories! A pop of color can really make or break an outfit. In this case the color red goes a long way for this tunic. Redrum indeed!
shining
by
apocalypstick
on Polyvore.com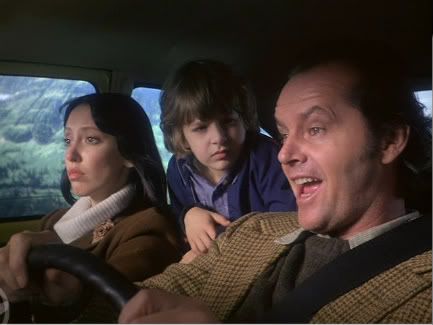 What's your husband done now? He's signed on as caretaker of a creepy hotel in the middle of nowhere during a long, cold, snowy winter? That guy!

Keep it chic with a blazer. A broach adds a personal touch.

Hey, I didn't know Fred Willard was in this movie! What? I'm just kidding, folks! But whoever that guy is, I bet he knows how to cut a rug!
shining2
by
apocalypstick
on Polyvore.com

Before there was the internet, there was this crappy thing! Shelley finds company in the transistor radio wearing a fun jacket. She sure looks comfy! Over and out.
shining4
by
apocalypstick
on Polyvore.com

Hedgemazers sure get cold so be sure to bundle up in
a warm coat. Hey, wait up, Danny! That kid's going places. And hopefully he gets there before his ax-wielding dad!
shining5
by
apocalypstick
on Polyvore.com
You may just be cooking at home (or in an abandoned hotel) for your family, but why not dress up a little?
This blouse really makes Shelley's eyes pop! Or maybe that's just the fear.
shining6
by
apocalypstick
on Polyvore.com
Don't forget the lip balm to keep your pout nice and…SHINY.

Uh oh. Husband going a little sir crazy? Good thing you're wearing your watch. Now you'll know the exact time when he tries to kill you! But at least you look comfortable. Heeeeeeerrrree's cotton!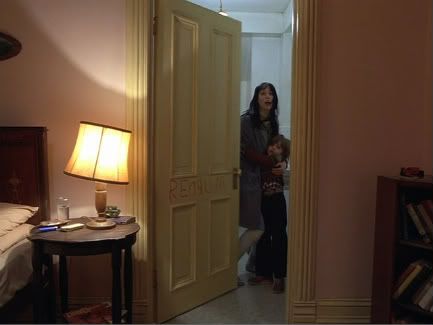 Here's a tip: it's easier to flee from your murderer in nice thick winter socks. Toasty!
Aw Shelley why so sad? Maybe if you had this luxurious sweater coat instead of a bathrobe you'd be a lot happier.
shining3
by
apocalypstick
on Polyvore.com

Sorry, Jack, there's nothing for you here. Try The Gap!!
All clothes from www.modcloth.com