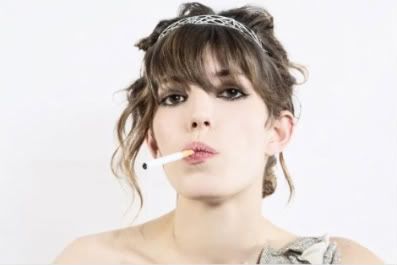 Yes, friends, it's another Facebook post. WAIT, DO NOT LEAVE, PLEASE. DO NOT CLICK THE LITTLE "X." DO NOT GO INTO KARLA'S CLOSET OR INTO THE VAST DESERT OF ONTD. STAY WITH ME A LITTLE LONGER. DO NOT GO GENTLY INTO THAT GOOD NIGHT.
OK now that it's just us, let's get really intimate. Let's talk about stuff. Let's throw it out there, like a deer carcass on a table.
Remember when you first got Facebook and you thought it would change your life? Wait, maybe that was just me. But remember when you first got it and you thought, "Oh this is cool and better than Friendster"? Yeah you have to remember that. Remember Friendster? Remember how there were "testimonials" and how when you wrote testimonials for each other you wrote them sincerely, because it was all so new? I had a friend who wrote things like, "Help, I am Rosie the Robot and I am trapped by George Jetson and forced to write things on Friendster!" Trust me, it was funny at the time. When the teacher pops a test, I know I'm in a mess, and the dog ate all my homework last night.
I think what upsets me most about Facebook is the jarring way it straddles the line between privacy and public life. By which I mean a lot of things, so let's break it down (remember that deer carcass? We're gonna take of its limbs and stuff. I'm sorry, I saw "The Queen" a few nights ago and I'm still thinking about that scene where Helen Mirren stares at the dead deer. God Helen Mirren was so fucking hot in her youth. She still is, in her own way, but that Mirren was like a girl from a David Bowie song or something, man. Wait, what? Oh right, let's break it down):
— When someone posts news on Facebook or interacts with you in some way, do you then bring it up in public? Or is it like you have two separate lives? How many times have we been at a party and someone you know starts telling you something about their lives and you think, "Fuck I remember reading that on my feed, do I let them keep talking? Are we now both pretending like this is new information?" It's the new "Uh oh this person has something in their teeth, do I tell them?"
— "It's complicated" is your relationship status. Then why the hell are you hitting on me? Are you trying to make merde more complicated? Sweet sassy molassy, what does "It's complicated" even mean, really? I take it to mean, "I'm currently fucking someone" but I could be way off.
— Between this blog, Facebook, and my twitter, it seems like I have no new banter left to present in "real life." Do you have any idea how many times I've tried to use that Jurassic Park joke in person only to be told, "I read that on your blog" and have me feel dumb? Do you have any idea how hard it is to come up with new material? Yabba Dabba Doo!
— This one annoys me to no end: I send you a message on Facebook, you haven't responded, but you've updated your profile/status/done something to prove that you in fact have been on Facebook and are, for whatever aggravating reason, not responding to my message. Don't you see how rude that is? To be honest, I've done that before, but only because I've totally forgotten that I had a message to respond to. So I like to give people the benefit of the doubt that think that they have also forgotten, but it gets harder to believe when they update their Facebook every day. Like, what the hell? Answer my goddamn message! I can tell you're online, I know you got it, because Facebook you know, works, so what the hell?? What don't you fucking understand??
However, I still can't bring myself to delete my Facebook. I KNOW, I KNOW! I just can't. I would feel way too disconnected from the world. For one thing, people use Facebook over email or telephone to send out invitations to parties/events. And you all know how much I love going to parties. I'm like Andy Warhol; I'd go to the opening of a cereal box. I just can't risk that disconnect. I need to know what's going on. Except for when I see something potentially upsetting, like when a love interest has moved/gotten a girlfriend/cut his hair. That's damaging. But, like an abusive lover, I keep coming back. I let Facebook pummel me and then I just bleed all over it.
These songs describe in every way possible, from lyric to melody, how I feel about Facebook:
Total Eclipse Of The Heart — Bonnie Tyler
This Must Be The Place (Naive Melody) — Talking Heads
Laura — Girls
Hate — Cat Power
This Town Ain't Big Enough For The Both Of Us — Sparks
and finally
What's So Funny 'Bout Peace, Love And Understanding — Elvis Costello & The Attractions